Local Clergy to Issue Statement of Support for Islamic Center

MEDIA ADVISORY

For more information,

contact:

The Rev. Kit Carlson
Member clergy of the East Lansing Area Clergy Association will share a statement of support with members of the Islamic Center and the wider community as a public expression of solidarity with Muslim neighbors in mid-Michigan. The announcement and press conference will be held Friday, February 12, at 1 p.m., at the Islamic Center of East Lansing, 920 S Harrison Rd, East Lansing, MI 48823.
The New York Times has reported that hate crimes against Muslims have tripled since the San Bernadino shootings in early December 2015. The member clergy of the East Lansing Area Clergy Association are dismayed by this rise in hate speech, hate crimes and acts of aggression against Muslims in recent weeks. Local priests, rabbis, pastors, and the imam of the Islamic Center of Greater Lansing hope that this statement will demonstrate the faith community's condemnation of Islamophobia and its commitment to work together to build stronger relationships in February through a shared "Islam Awareness Month."
Congregations across the East Lansing area are hosting conversations, book studies, film screenings and dinners in an attempt to understand this major world religion better. A schedule of events in local congregations will be available at the press conference. ELACA is encouraging members of all its congregations to visit the Islamic Center and other congregations' educational programs to build better relationships across the region.
"We are committed to learning more about this major world religion and to building real relationships with our Muslim neighbors," said the Rev. Alice Townley, president of ELACA. "We want the community to see us as leaders in the conversation. We want to show our support, as people of faith, for those faithful people who adhere to the Muslim religion."
Imam Solail Chaudry, the Rev. Alice Townley, Rabbi Michael Zimmerman and other clergy will be available for interview and comment at the event.
###
____________________________________________________
"Islamic Jurisprudence of Financial Transactions"
Friday and Saturday |
February 12 & 13
after Isha prayer on both nights at 7:30 pm
A special presentation by a guest speaker
Dr. Main Al-Qudah, Assistant Professor, Al-Huda University
All brothers and sisters are invited to join us for this special presentation.
The Friday Khutbah will be delivered by the guest speaker as well insha Allah.
____________________________________________________
"Muslim Mental Health Conference"
Thursday Mar 17 - Sun Mar 20
at the Dearborn Inn, 20301 Oakwood Blvd, Dearborn, MI 48124
The conference is about discussing disparities with health care especially concerning Muslim communities, and reducing stigma for mental illness. The conference is coordinated by Dr. Farha Abbasi, MSU Psychiatrist, Managing Editor of the Muslim Mental Health Journal, Assistant Professor, MSU.
____________________________________________________
Youth and the Messenger of Allah
Part 2 of the new lecture series ~ presented by Imam Sohail
Please note: Owing to a guest speaker visiting us on Feb 12, this lecture will be offered on the 3rd Friday this month (instead of the previously announced 2nd Friday) insha Allah
7:30 pm, Friday, February 19
We invite all Brothers and Sisters to
join us for this talk
About this lecture: In this series Imam Sohail will introduce prominent young companions of the Prophet, peace be upon him and how he interacted with them in order to build strong personalities.
Suitable for: This will be a beneficial course for parents, adults who interact with youth like teachers and the youth themselves who will be introduced to the youth around the Messenger.
____________________________________________________
Global Perspectives on Political Violence, Part 1
Cosponsored by MSU Muslim Studies Program
2:30 pm - 4 pm, Thursday, February 18
Panelists
Ken Harrow (English/GSAH) ~
The Naked Face of Globalization: Violence in the East Congo and Mali
Sidney Lu (History) ~
Myth and Truth: Japanese Atrocities During WWII from a Global Perspective
Tacuma Peters (English/GSAH) ~
Decolonization and Violence
Jyotsna Singh (English) ~
Postcolonial Violence in India and Bourgeois Realist Novel: Neel Mukherjee's The Lives of Others
____________________________________________________
President Obama's
speech at the Islamic Society of Baltimore
, on his first visit to a mosque in America as the President.
"
I want every Muslim American who may be wondering where they fit in to know that you're right where you belong - right here, because you're part of America, too. You are not Muslim or American. You are Muslim AND American.
"
____________________________________________________
Upcoming lectures and programs from Muslim Studies program at MSU
The Rise of Islam in a Judeo-Christian Context
Date: Tuesday, 02 Feb 2016
Time: 7 pm
Location: 303 International Center

Speaker: Jonathan Brockopp,
Penn State University
Why academic freedom is at risk in Turkey today?
Date: Friday, 05 Feb 2016
Time: 12 pm to 1:30 pm
Location: 201 International Center

Description:
At a January 2016 emergency meeting, Turkey's Higher Education Council launched an investigation against 1, 128 academics who signed a petition appealing to the state to pursue peace talks with the country's Kurdish community. This "Peace Petition" was depicted as "terrorist propaganda" & hence pursued as an issue beyond academic freedom. Days following the meeting, university administrators throughout Turkey took action against those who signed the petition. This crackdown on scholars generated an up-roar within Turkey & abroad, & protest letters began to flood the offices of Turkish institutions & officials. Seen from outside as an effort to silence the critics of the government, this case raises larger questions about freedom of speech, academic freedom, human rights, etc. within Turkey & elsewhere. This teach-in brings together relevant scholars to discuss into human rights & speech issues in Turkey and reflect on what this means for Turkey & interna-tional academics who work on the country.
Transcultural Teens Performing Youth Identities in French Cities
Date: Monday, 08 Feb 2016
Time: 3 pm to 7 pm
Location: 303 International Center

Presented by :
Chantal Tetreault, Department of Anthropology, MSU
____________________________________________________
Dar-Al-Quran ~
New Semester
Saturday
Jan 23, 11 am to 1 pm
Registration is now open for the Next Semester for Dar-Al-Quran
Payment is due on the first day of class Jan 23 to April 30


Class commences - January 23
Class Times - Saturdays 11 am to 1 pm




Fee is $50 per semester per student. 50% discount for Greater Lansing Islamic School students.
____________________________________________________
Join the Michigan Muslim Community Council Campaign
to Provide Clean Water for Flint Residents
Access to clean water is a basic human need which the people of Flint do not have. Our Muslim and American values simply do not allow us to ignore the plight of our fellow neighbors. In Islam, providing water is one of the highest forms of charity. As Americans, we simply cannot allow the people of Flint to be without one of the basic necessities for life.
____________________________________________________
Classes will resume in
January 2016
Ages 8 to 12


Select one of two classes with maximum of 20 students per class.

Classes Resume Tuesday January 12 or Wednesday, January 13 of you choose Wednesdays class option.

Class time: 6:30 pm to 7:30 pm




Ages 13 and up

Classes Resume Sunday January 17

Class time: 5:00 pm to 6:30 pm
Registration:




Please stop by Imam's Office to register




Registration deadline:

Friday, January 8th, 2016



Registration Fee:
1 child ~ $50
2 children ~ $75
3 or more children ~ $100
| | | |
| --- | --- | --- |
| Reading and Writing | Semester 2 | Mondays 6 to 7 pm |
| Language & Grammar Class | Semester 3 | Mondays 7 to 8:30 pm |
| Language & Grammar Class | Semester 1 | Sundays 11 am to 1 pm |
The goal of the class is to attain Arabic Language skills to enable one to understand the Qur'an and enjoy the salah.
Age: For students 12 years and up

Islam 101
at the Islamic Center of East Lansing
The Islam 101 class is offered on the first Sunday of every month and is
intended for our friends and neighbors who would like find out more about Islam.
It will feature a presentation about the basics of Islam as well as issues particularly pertinent today will be followed by discussion and QA time.
Please share this with your peers, friends, neighbors, classmates who may benefit from this learning
opportunity
.



Open to all. Questions? eMail
info@lansingislam.com
____________________________________________________
Al Maghrib Institute presents




"

Deception: a study of Shaytan" by Shaykh Saad Tasleem




Location:

Friday at MCWS-Canton



Description
: Qabeelah Ittihaad is pleased to announce a one-weekend seminar coming soon, which offers a comprehensive study of Shay?an. Is he the Islamic equivalent of the boogeyman? Is he simply a scapegoat for all of our problems and shortcomings? Who exactly is he?
But it's not as bad you think. The way of Allah is to not leave His servants in their heated conflict with Shay?an without any aid or support from Him. From His Mercy is to provide for the believers those who would remind and educate them how to remain steadfast upon the truth in this lifelong struggle.
For Financial Aid, Babysitting, carpooling, travel accommodations & more, visit
www.ittihaad.com
.
____________________________________________________
Help Greater Lansing Islamic School raise funds via Schoola.com
The Greater Lansing Islamic School is partnering with
Schoola
to help raise funds for our children at the school.
What's Schoola? It's a great way to raise funds for our school. Schoola collects pre-loved women's and children's clothes, preps and sells them online, and gives 40% of the proceeds back to Greater Lansing Islamic School to help fund programs for our kids.

That's $2 out of every $5 earned back to our school! Simply click here or on the image below to view our very own Schoola landing page where you can request a bag and view our progress and funds earned.

____________________________________________________
MSU Muslim Studies Program, MSU Libraries, and East Lansing Public Library present - a

scholar-led book group to
learn more about the experiences of Muslims.
We will begin with an introduction to the Qur'an and its place in the lives of Muslims.
Then we will read four memoirs exploring the authors' paths in countries including Egypt, France, Iran, Lebanon, Turkey and the United States. Each session will start with a short lecture, followed by facilitated book discussion, and finish with a question and answer period.
Public is invited to participate. Drop-in for one or attend all five sessions; no sign up required. Free and open to the public. Light refreshments served.
Books may be borrowed from the MSU Main Library's
"reserved reading" desk
(residents of Michigan may be eligible for a
Community Borrower's Card
) or the East Lansing Public Library. Books are available for purchase at Schuler Books and Music in Okemos and Everybody Reads in Lansing.
7:00 pm
MSU Main Library, Green Room, 4th floor West wing
7:00 pm
**East Lansing Public Library**
Leila Tarakji, Graduate Student in English, will lead a discussion on
The Butterfly Mosque
by G. Willow Wilson.
Special Event: MSU Film Collective Screening
8:00 pm
**B122 Wells Hall**
Persepolis (Animated Feature Film)
Cosponsored by the MSU Libraries, MSU Comics Forum and MSU Film Collective
With discussion by Kaveh Askari of Western Washington University.
____________________________________________________
Seerah Class: The Biography & Life of Prophet Muhammad
Peace be upon him
after Isha, every Wednesday
We invite all Brothers and Sisters to
join us for this talk
___________________________________________________
Registration Open ~ 2015-16

Enrollment open for grades ~ Early Pre-K to Grade 8

If you missed the Early Registration at the Greater Lansing Islamic School, you can still register your child to attend the school.




For more information contact the

GLIS office at 517-332-3700,
Early Pre-Kindergarten class at GLIS

Early Pre-Kindergarten at GLIS follows the Montessori Method of learning.




Students learn Arabic, Islamic Studies, Quran and social skills in a safe environment.




Children Two and half years of age are eligible to be enrolled in the Early Pre-Kindergarten class.




For more information contact the

GLIS office at 517-332-3700
When it comes to attacking Islam and Muslims, lately it appears to be an open season.




A recent article in The Atlantic casts ISIS as being motivated by ideology and is being touted as a defining report on the terrorist organization. However, this article is deeply flawed and full of inaccuracies.

ISIS's biggest

victim is Islam

And it runs counter to President Obama's recent statement, quoted below, that accuses groups like ISIS of perverting Islam:




"We must never accept the premise that they put forth [that ISIS is an accurate depiction of Islam] because it is a lie. Nor should we grant these terrorists the religious legitimacy that they seek. They are not religious leaders. They are terrorists...

We are not at war with Islam. We are at war with people who have perverted Islam."




Here are a few scholarly articles that offer viewpoints that challenge the inaccuracies of Graeme Wood's flawed article in The Atlantic.

Here are a few scholarly articles that offer a viewpoints from renowned Muslims and others and also challenge the inaccuracies of Greame Wood's flawed article in The Atlantic.




What is "Islamic"? A Muslim Response to ISIS


by Daniel Haqiqatjou and Dr. Yasir Qadhi




The Atlantic's big Islam lie: What Muslims really believe about ISIS


By Haroon Moghul





How 'Islamic' Is the Islamic State?


By Dr. Juan Cole




Muslim Scholars Release Open Letter to ISIS / ISIL meticulously blasting its ideology

More than 120 Muslim scholars from around the world joined an open letter to the "fighters and followers" of the Islamic State, denouncing them as un-Islamic by using the most Islamic of terms.


Relying heavily on the Quran, the 18-page letter released Wednesday (Sept. 24) picks apart the extremist ideology of the militants who have left a wake of brutal death and destruction in their bid to establish a transnational Islamic state in Iraq and Syria.
Full report: http://www.huffingtonpost.com/2014/09/24/muslim-scholars-islamic-state_n_5878038.html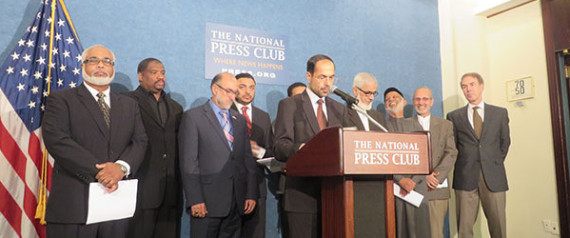 Nihad Awad, center, executive director of the Council of American-Islamic Relations, and more than 10 Muslim-American leaders Wednesday (Sept. 24) endorse a letter written by more than 100 Islamic scholars that denounces ISIS by relying on sacred Muslims texts.


Religion News Service photo by Lauren Markoe | RNS photo by Lauren Markoe
Source: http://www.huffingtonpost.com/2014/09/24/muslim-scholars-islamic-state_n_5878038.html

Hijri 1436 Prayer Schedule ~ 2014-15
Ramadan and Eid Dates through 2021

To help you plan your Eid celebrations, Hajj with your families
This is to inform you of the key dates well into the future so that you can plan in advance to take time off to celebrate Eid with your families near and far, and so that you can make intentions and plan to perform Hajj in future, insha Allah.
This notice also explains the Islamic Center of East Lansing's policy in determining and observing these important dates.
Year

Eid-Al-Fitr

Eid-Al-Adha

2016
Mon, June 6
Wed, July 6


Lansing Center

Sun, Sept. 11
Causeway Bay Hotel and
Conference Center
2017
Sat, May 27
Sun, June 25


TBD

Fri, Sept. 1


Lansing Center

2018
Wed, May 16
Fri, June 15


Lansing Center

Tue, August 21


Lansing Center

2019
Mon, May 6
Tue, June 4


Lansing Center

Sun, August 11


Lansing Center

2020
Fri, April 24
Sun, May 24


Lansing Center

Fri, July 31


Lansing Center

2021
Tue, April 13
Thu, May 13


Lansing Center

Tue, July 20


Lansing Center

* All dates are not final, but very likely based on astronomical calculations.
Dates will be declared as final on the announcement page as soon as ISNA announces them
Islamic Center's Policy in determining these dates:
The Islamic Center of East Lansing follows the Islamic Society of North America (ISNA) in determining the 1st day of Ramadan as well as the day for both the Eid festival days.
ISNA in turn is guided by the Fiqh Council of North America (FCNA) in determining these dates.
1. For Ramadan and Eid-Al-Fitr, the FCNA uses astronomical calculations to determine the date.
2. For Eid-Al-Adha, the FCNA follows

announcement by the Hajj authorities in Makkah and celebrate Eid-Al-Adha after the day of Arafah observed by the Hajj pilgrims

.
Eid Prayer Venue:

Based on the size of our congregation and several other factors such as parking, convenience, familiarity of venue and the community's feedback from a survey, Lansing Center in Downtown Lansing has been determined as the venue for our EId prayer and celebrations.


Lansing Center has been reserved as the venue for Eid prayers for the next 9 years for all but three of the dates listed in the table above.



Lansing Center Reservation Policy:

Contract with Lansing Center can be signed only 9 months before the date of use.
Until the contract is signed, a multi-day event can take precedence over our half day reservation.
As soon as we get into a 9 month window of the above dates, Lansing Center will issue the contract to the Islamic Center and the venue will be 'confirmed' for the Islamic Center.
Until the contract is signed, the Islamic Center reservation will be treated as a 'hold, pending confirmation'.
Why Eid Prayers are not held at the Islamic Center?
The Islamic Center is not an ideal venue for holding Eid prayers for the following reasons:
1. There is not enough room for the large number of prayer attendees. It is hazardous to have so many attendees inside the Islamic Center at one time from a safety standpoint
2. There isn't enough parking in the Islamic Center for all. While the University Lutheran Church has been generous allowing us to use their parking lot, it inconveniences their morning attendees.
3. Parking on the side streets of the Islamic Center in the neighborhood is not permissible per city of East Lansing code. Moreover, the traffic disturbs tranquility of the neighborhood.
Follow the Islamic Center on Facebook
Join the over 2500 people following our Islamic Center on Facebook
Stay informed on Islamic Center Events, Current Events, Community Efforts, Community News, Interact with friends in our Community, Useful Tips, Pictures, Videos, and more
____________________________________________________
"And continue to remind, for surely the reminder profits the believers. " (verse 55 of Surah # 51: ADH-DHARIYAT)
<!Start Calendar code//-->

Send it to -
donate@lansingislam.com
If you have a paypal account, we prefer receiving your donation via Paypal in the form of a "Gift" to save us from fees charged otherwise.
Talking Points on Anti-Muslim Backlash
Please keep yourself informed on the talking points mentioned in the link below on how to counter the Anti-Muslim sentiment that is sweeping the nation.

http://lansingislam.com/talking_points.htm