Janaza Prayer

at the Islamic Center

10 am, Wednesday, October 7




We are saddened to inform you about the passing away of five year old Zainab Khurram. May Allah grant Zainab Janat-ul-firdous and the family patience as they cope with this loss.






A janaza prayer will be offered at 10 am on Wednesday October 7.
Click here to leave a message for the family.
____________________________________________________



You are invited to a talk by




Professor Mohammed Ayoob

University Distinguished Professor Emeritus

of International Relations




"Elucidating Conflict Structures in the Middle East: Separating the Grain from the Chaff"




4:30 pm, Tuesday October 6th

at the James Madison College Library



(3rd Floor Case Hall, MSU)
____________________________________________________
____________________________________________________
Imam Sohail to speak at interfaith Panel at LCC
1 pm to 2 pm |
Wednesday October 7
3rd Floor, Library, TLC Building, LCC |
400 N Capitol Ave, Lansing, MI 48933
Intersection of Christianity, Islam, and Judaism: One Book #OneLCC Scholarly Lecture Series

Listen and learn from a variety of clergy at this inter-faith panel. Get answers to questions about the major commonalities and differences between Christianity, Islam, and Judaism and ask your own questions.
Panel speakers include Rabbi Amy Bigman from Congregation Shaarey Zedak, Reverend Katherine Carlson from All Saints Episcopal Church, and Imam Sohail Chaudhry of the Islamic Center of East Lansing.
This lecture is suitable for anyone interested in knowing more about these religions. Instructors who would like to bring an entire class to this event should contact Susan Murphy at
murphs12@lcc.edu
About One Book #OneLCC
One Book #OneLCC
is a shared community reading experience that encourages students, faculty, and staff to engage in special events, discuss
ions, and college-wide conversations surrounding a thought provoking common read.
STEMfest for K-6th grades
at Lansing Community College Arts & Sciences Building
419 N Washington Sq, Lansing, Michigan 48933

9 am to 1 pm | Saturday, October 10
STEMfest is a FREE event for children K-6th grades to visit LCC's campus and experience hands-on science and math activities! All events are non-competitive with an emphasis on learning, offering activities ranging from eye dissection to planetarium shows!
Arabic Classes |
Taught by Imam Sohail
2 courses are being offered: Beginners as well as Advanced Level
Every Monday ~ August 10 to November 30
Beginners course will teach from b
asic reading & writing of Arabic (6 pm -7 pm)
Advanced Course will teach Arabic Grammar with emphasis on Quranic Arabic ( 7 pm to 8:30 pm )
Registration Open ~ 2015-16

Enrollment open for grades ~ Early Pre-K to Grade 8

If you missed the Early Registration at the Greater Lansing Islamic School, you can still register your child to attend the school.




For more information contact the

GLIS office at 517-332-3700,
Early Pre-Kindergarten class at GLIS

Early Pre-Kindergarten at GLIS follows the Montessori Method of learning.




Students learn Arabic, Islamic Studies, Quran and social skills in a safe environment.




Children Two and half years of age are eligible to be enrolled in the Early Pre-Kindergarten class.




For more information contact the

GLIS office at 517-332-3700
Seerah Classes
Every Wednesday, from Maghrib to Isha
When it comes to attacking Islam and Muslims, lately it appears to be an open season.




A recent article in The Atlantic casts ISIS as being motivated by ideology and is being touted as a defining report on the terrorist organization. However, this article is deeply flawed and full of inaccuracies.

ISIS's biggest

victim is Islam

And it runs counter to President Obama's recent statement, quoted below, that accuses groups like ISIS of perverting Islam:




"We must never accept the premise that they put forth [that ISIS is an accurate depiction of Islam] because it is a lie. Nor should we grant these terrorists the religious legitimacy that they seek. They are not religious leaders. They are terrorists...

We are not at war with Islam. We are at war with people who have perverted Islam."




Here are a few scholarly articles that offer viewpoints that challenge the inaccuracies of Graeme Wood's flawed article in The Atlantic.

Here are a few scholarly articles that offer a viewpoints from renowned Muslims and others and also challenge the inaccuracies of Greame Wood's flawed article in The Atlantic.




What is "Islamic"? A Muslim Response to ISIS


by Daniel Haqiqatjou and Dr. Yasir Qadhi




The Atlantic's big Islam lie: What Muslims really believe about ISIS


By Haroon Moghul





How 'Islamic' Is the Islamic State?


By Dr. Juan Cole




Take advantage of the Tax Deduction !

Donations made to the Islamic Center are tax-deductible. Donation receipts for 2014 will be mailed out by January 31, 2015.
You still have time to take advantage of the tax deduction for this year 2014.
You can mail your donation or drop your check in donation boxes at the Islamic Center before December 31, 2014 to get a tax-deduction on your donation.


Mailing address: 920 S. Harrison, E Lansing, MI 48823
Muslim Scholars Release Open Letter to ISIS / ISIL meticulously blasting its ideology

More than 120 Muslim scholars from around the world joined an open letter to the "fighters and followers" of the Islamic State, denouncing them as un-Islamic by using the most Islamic of terms.


Relying heavily on the Quran, the 18-page letter released Wednesday (Sept. 24) picks apart the extremist ideology of the militants who have left a wake of brutal death and destruction in their bid to establish a transnational Islamic state in Iraq and Syria.
Full report: http://www.huffingtonpost.com/2014/09/24/muslim-scholars-islamic-state_n_5878038.html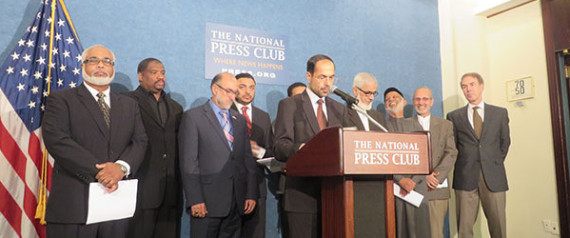 Nihad Awad, center, executive director of the Council of American-Islamic Relations, and more than 10 Muslim-American leaders Wednesday (Sept. 24) endorse a letter written by more than 100 Islamic scholars that denounces ISIS by relying on sacred Muslims texts.


Religion News Service photo by Lauren Markoe | RNS photo by Lauren Markoe
Source: http://www.huffingtonpost.com/2014/09/24/muslim-scholars-islamic-state_n_5878038.html

Hijri 1436 Prayer Schedule ~ 2014-15
Ramadan and Eid Dates through 2021

To help you plan your Eid celebrations, Hajj with your families
This is to inform you of the key dates well into the future so that you can plan in advance to take time off to celebrate Eid with your families near and far, and so that you can make intentions and plan to perform Hajj in future, insha Allah.
This notice also explains the Islamic Center of East Lansing's policy in determining and observing these important dates.
Year

Eid-Al-Fitr

Eid-Al-Adha

2015
Thu, June 18
Fri, July 17


Lansing Center

Thu, Sept. 24


Lansing Center

2016
Mon, June 6
Wed, July 6


Lansing Center

Sun, Sept. 11
Causeway Bay Hotel and
Conference Center
2017
Sat, May 27
Sun, June 25


TBD

Fri, Sept. 1


Lansing Center

2018
Wed, May 16
Fri, June 15


Lansing Center

Tue, August 21


Lansing Center

2019
Mon, May 6
Tue, June 4


Lansing Center

Sun, August 11


Lansing Center

2020
Fri, April 24
Sun, May 24


Lansing Center

Fri, July 31


Lansing Center

2021
Tue, April 13
Thu, May 13


Lansing Center

Tue, July 20


Lansing Center

* All dates are not final, but very likely based on astronomical calculations.
Dates will be declared as final on the announcement page as soon as ISNA announces them
Islamic Center's Policy in determining these dates:
The Islamic Center of East Lansing follows the Islamic Society of North America (ISNA) in determining the 1st day of Ramadan as well as the day for both the Eid festival days.
ISNA in turn is guided by the Fiqh Council of North America (FCNA) in determining these dates.
1. For Ramadan and Eid-Al-Fitr, the FCNA uses astronomical calculations to determine the date.
2. For Eid-Al-Adha, the FCNA follows

announcement by the Hajj authorities in Makkah and celebrate Eid-Al-Adha after the day of Arafah observed by the Hajj pilgrims

.
Eid Prayer Venue:

Based on the size of our congregation and several other factors such as parking, convenience, familiarity of venue and the community's feedback from a survey, Lansing Center in Downtown Lansing has been determined as the venue for our EId prayer and celebrations.


Lansing Center has been reserved as the venue for Eid prayers for the next 9 years for all but three of the dates listed in the table above.



Lansing Center Reservation Policy:

Contract with Lansing Center can be signed only 9 months before the date of use.
Until the contract is signed, a multi-day event can take precedence over our half day reservation.
As soon as we get into a 9 month window of the above dates, Lansing Center will issue the contract to the Islamic Center and the venue will be 'confirmed' for the Islamic Center.
Until the contract is signed, the Islamic Center reservation will be treated as a 'hold, pending confirmation'.
Why Eid Prayers are not held at the Islamic Center?
The Islamic Center is not an ideal venue for holding Eid prayers for the following reasons:
1. There is not enough room for the large number of prayer attendees. It is hazardous to have so many attendees inside the Islamic Center at one time from a safety standpoint
2. There isn't enough parking in the Islamic Center for all. While the University Lutheran Church has been generous allowing us to use their parking lot, it inconveniences their morning attendees.
3. Parking on the side streets of the Islamic Center in the neighborhood is not permissible per city of East Lansing code. Moreover, the traffic disturbs tranquility of the neighborhood.
"And continue to remind, for surely the reminder profits the believers. " (verse 55 of Surah # 51: ADH-DHARIYAT)
<!Start Calendar code//-->

Send it to -
donate@lansingislam.com
If you have a paypal account, we prefer receiving your donation via Paypal in the form of a "Gift" to save us from fees charged otherwise.
Talking Points on Anti-Muslim Backlash
Please keep yourself informed on the talking points mentioned in the link below on how to counter the Anti-Muslim sentiment that is sweeping the nation.

http://lansingislam.com/talking_points.htm